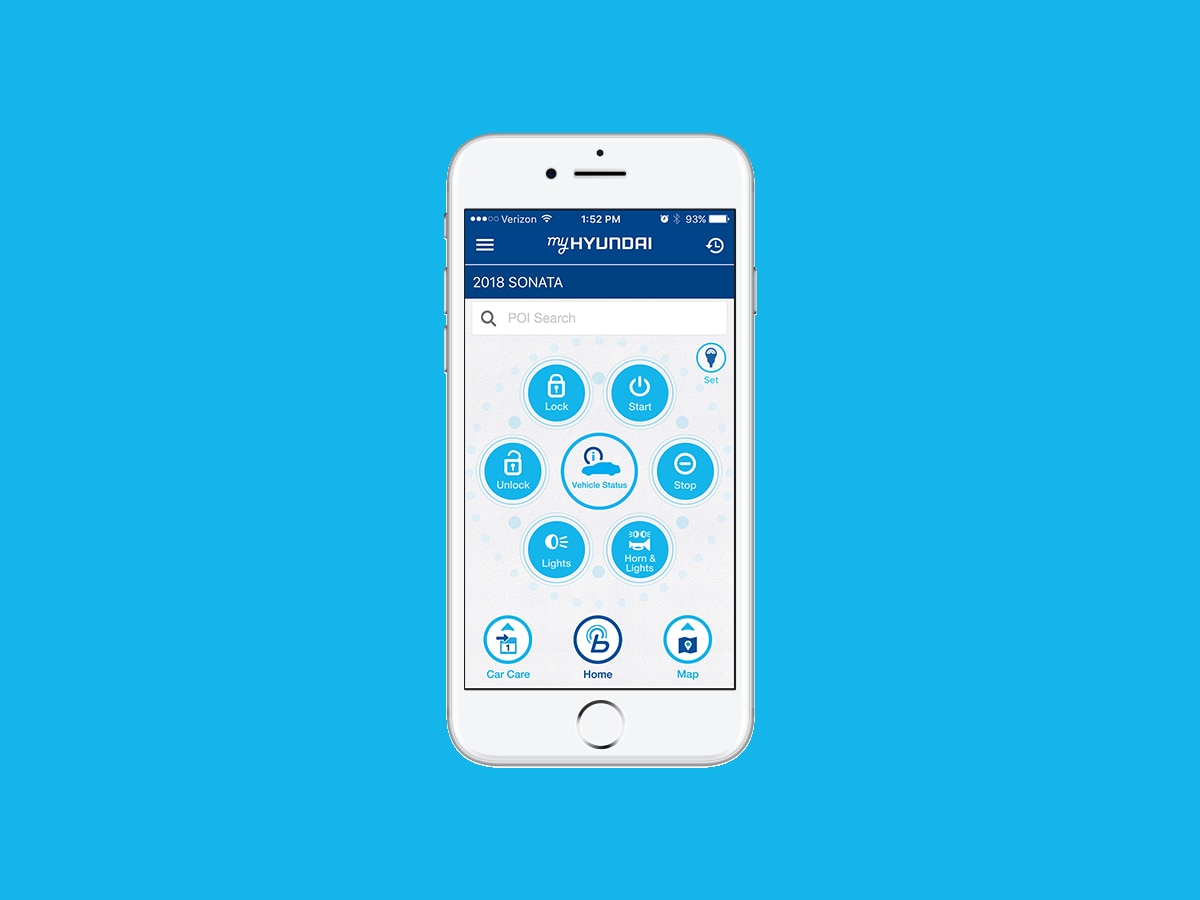 As auto technology continues to advance, so does the driving experience. Cars are becoming more autonomous, and infotainment systems are changing the way we get around. One advancement aimed at improving safety is Blue Link – Hyundai's in-vehicle communications system. The service is available on most new Hyundai vehicles bought or leased after May 15, 2013.1
Blue Link Safety Features
Hyundai is dedicated to safety, and it shows in the company's Blue Link system, which offers features that put you in touch with help instantly, such as:
Automatic Collision Notification and Assistance –

If an airbag deploys, your vehicle and location information will be transmitted to the response center. An operator will attempt to communicate with you through the system and forward any necessary information to emergency services.

SOS Emergency Assistance –

You can press the vehicle's SOS button to send your information to specially trained operators who coordinate with emergency assistance dispatch.

Enhanced Roadside Assistance –

Contact Roadside Assistance with the simple press of a button. Your vehicle and location information will be automatically sent to the response center.
Blue Link Car Care Features
Bringing your vehicle in for regular maintenance is crucial to keep it running safely and efficiently. Fortunately, you don't have to figure out the service schedule on your own. Blue Link offers several car care features, including:
Maintenance Alerts –

An email or text message will let you know when upcoming service is due and explain the recommended services.

Monthly Vehicle Health Report –

On

MyHyundai.com

, you can review your vehicle's current health status and receive monthly diagnostic reports.

Automated Diagnostic Trouble Code Notification –

If you receive a vehicle trouble code notification, this feature will explain what it means and how to remedy the issue. This information is automatically sent to your preferred dealer to expedite the repair process.

Recall Advisor –

In the event of a recall, this tool notifies you via email, MyHyundai.com and the in-vehicle display.

Service Link –

You can use this to contact a Blue Link agent and schedule a service appointment.
Optional Features
Hyundai offers three Blue Link packages – Connected Care, Remote and Guidance. Each one includes the safety and car care features. The Remote package lets you start your vehicle remotely, use remote climate control and find your car if you forget where you parked. The Guidance package includes Destination Search powered by Google to help you find gas stations, restaurants and stores near you.
How Blue Link Compares to Other On-Board Systems
Many other car companies offer on-board systems to keep drivers safe and informed about maintenance. However, Hyundai's Blue Link provides the best value for the price – all models from 2018 onward come with three years of service included, with an annual cost of $99 after the trial period ends.2 In comparison, GM OnStar costs $199 per year after a trial period that varies from six months to two years depending on the vehicle, and Toyota Safety Connect costs $139 per year after a one-year trial.3,4 Unlike GM and Toyota's systems, Blue Link is transferable to you free for three months if you buy a used Hyundai with the service.
Blue Link is also the most comprehensive system. OnStar does not offer features like Service Link or Recall Advisor, and Safety Connect is only equipped with the safety assistance features.
Get Blue Link and More With a New Vehicle From Texan Hyundai
If you want Blue Link and the other safety features Hyundai is known for, Texan Hyundai is the place to go. We offer a wide selection of new vehicles equipped with Blue Link, as well as low-mileage, certified pre-owned vehicles. Stop by our Rosenberg dealership or call (832) 586-8600 today to find your dream car!
1 https://www.hyundaiusa.com/assurance/connected-care.aspx#6
2 https://www.hyundaiusa.com/myhyundai/manuals-and-how-tos/Getfaq?faqId=9&category=blue_link
3 https://www2.onstar.com/web/portal/planspricing?g=1
4 https://www.toyota.com/content/ebrochure/safety_connect.pdf