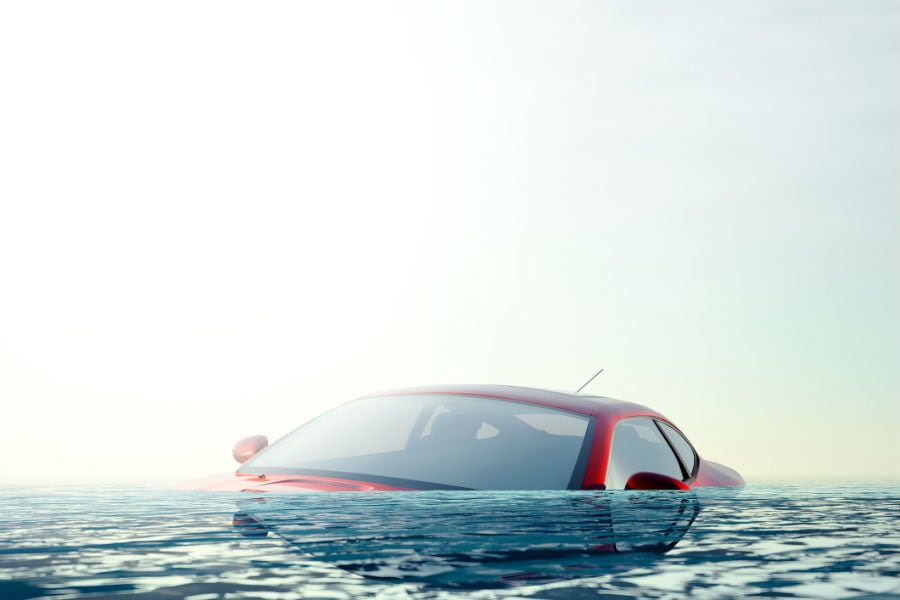 If your car, truck or SUV was flooded by Hurricane or Tropic Storm Harvey, you likely have a lot of questions. Will my car work again once it's dried out? Do I need to buy a new car? What can I do about the smell? You're not alone.
One of the most striking things about the images the world has been seeing out of Houston, Corpus Christi, Beaumont and the surrounding areas are the sheer number of submerged vehicles. Auto industry experts have estimated anywhere from 500,000 to a million cars, trucks and SUVs have been damaged by Harvey.
In most cases, water getting into a vehicle and its inner components will cause irreparable damage, requiring the insurance company to consider it totaled. From an insurance company perspective it's hard to imagine just how busy those claims adjusters are going to be in south Texas over the next few months.
According to the Washington Post, State Farm had already received 20,000 claims calls from the Houston area as of September 2. That's likely of little comfort to you if you want to get your mode of transportation back and don't want to wait in line behind hundreds of thousands of other auto owners wanting to do the same.
Will My Car Work Again After the Water Recedes?
In most cases, vehicles are irreparably damaged from the water and will likely never function properly again. Try to determine how far the water rose on your vehicle. If it didn't rise above the floor mats your chances are a lot better than if it rose up to the dashboard.




Modern electronics and wiring can be easily damaged by exposure to water, and if the battery wasn't disconnected other damage could have been caused due to shorts. Many systems in your vehicle aren't designed to be exposed to water. For example, if there's water in the engine's cylinders, starting the vehicle could actually bend components that connect the pistons to the drive train, causing even more damage. There are many fluids in your car that need to remain pure and undiluted by water.




This includes your car, truck or SUV's oil, braking fluid, antifreeze and its gasoline or diesel fuel. All of these may have been contaminated by water. Running these systems with contaminated fluids can complicate the issues. At the very least, all of these fluids and their filters should be replaced following thorough drying of the vehicle.In addition to any damage done to interior components and electronics, the salty Gulf of Mexico water likely did a number on your car's interior.




Mold and corrosion in our climate are hard to avoid, and your vehicle's interior will likely be wet for a while, increasing the chances for mold to form or corrosion to occur. Even deep detailing likely won't be enough to completely erase the effects of severe flood damage.
Will Insurance Cover My Vehicle's Flood Damage?
If you're part of the approximately 78% of the nation's drivers who have comprehensive insurance coverage, flood damage is likely covered for your vehicle. If you have minimal coverage, on the other hand, it may not be. Drivers who financed or are leasing their vehicle are likely required to have comprehensive insurance, so these drivers should be in the clear after they pay their deductible.
What Can I Do If I Need a New Car, Truck or SUV ASAP?
The answer to this one is actually not as difficult as you may think. Call Texan Hyundai at (832) 586-8600 or
visit our dealership today
. Our staff will do everything in our power to help you get the vehicle you need after Harvey's taken yours.
The entire Texan Hyundai team was also affected by the damage and flooding inflicted by Harvey, and we want to help our neighbors and effected members of the community get back on their feet. That's why we are currently offering FREE loaner vehicles to customers who need transportation as soon as possible.
We're also doing everything in our power to make it easier for you to purchase a vehicle if your car, truck or SUV is totaled, such as offering no-payment financing for up to 90 days after you purchase your replacement vehicle from Texan Hyundai. For a limited time after Harvey we are even paying your insurance deductible up to $1,000.
If your car, truck or SUV was destroyed by Harvey, we want to help. Give us call or visit our dealership today!