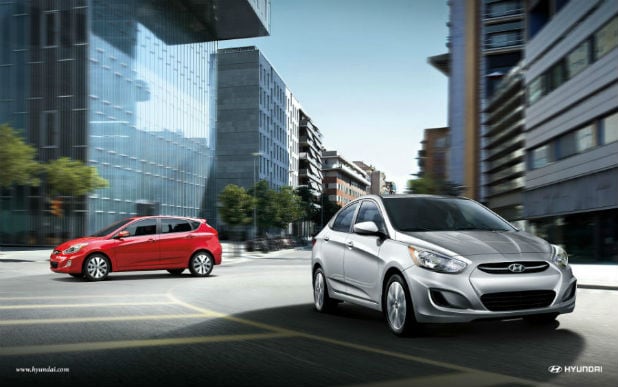 As the year comes to a close, you may find yourself scrambling to make a list of present ideas or New Year's resolutions. Try thinking outside the box. Instead of gifting the same old clothes and kitchenware and promising to hit the gym, why not mix things up with a new Hyundai vehicle? The modern look and safety features will feel like a present for you and an investment in safer transportation for 2018.
The Hyundai Accent is the most affordable Hyundai sedan or hatchback, with a net price ranging from $12,245 to $14,995 depending on the model. However, just because the price is reasonable doesn't mean you will have to sacrifice on safety or fuel economy. These subcompact cars hold their own in the lineup, and there are four excellent models to choose from depending on what you're looking for in the perfect vehicle.
SE Sedan
This sleek sedan is the perfect choice for the practical driver who wants their vehicle to be both affordable and efficient. Available in both manual and automatic transmissions, you'll get an impressive 27/37/31 mpg or 26/36/30 mpg for city, highway and combined driving, respectively. Like all the other models of the Hyundai Accent, you'll also get a powerful 1.6L DOHC 4-cylinder engine with D-CVVT that delivers 137 horsepower and 123 lb-ft of torque. That's much more impressive than the measly 106 hp of the 2017 Toyota Yaris!
If you're worried you'll be cramped and uncomfortable in your subcompact, cast those fears aside – the SE Sedan has a roomy interior with 89.7 cubic feet for passengers and 13.7 cubic feet for cargo when the rear seats are up.
That means your family and friends can fit comfortably alongside all their cargo. They'll also stay safe, as Hyundai offers a collection of safety features that come standard in every Accent model, including six airbags, Vehicle Stability Management, Electronic Stability Control, a Traction Control System, an Anti-lock Braking System, Electronic Brake-force Distribution and Brake Assist. When you need to slam on the brakes or if you start to skid, the Accent keeps you protected.
Value Edition Sedan
The Value Edition Sedan comes with the same power and space as the SE Sedan plus some extra features for a safer and more comfortable ride. Unlike the SE Sedan, the Value Edition Sedan comes standard with the 6-speed automatic transmission with SHIFTRONIC® and the Active ECO System. This intuitive system will adjust to your driving habits and the weather for a smoother ride.
In addition to the standard safety features mentioned above, the Value Edition Sedan swaps the rear drum brakes of the SE Sedan for rear disc brakes. These types of brakes perform better overall, especially in rainy weather or when driving down inclines. It also ditches the 14-inch steels wheels with wheelcovers and P175/70TR14 tires for sharper-looking 16-inch machine-finish alloy wheels with P195/50R16 tires.
This model also benefits from a major tech upgrade. Enjoy a range of steering-wheel-mounted controls, like cruise control, audio and Bluetooth® and connect with your loved ones while staying fully focused on the road with the hands-free phone system. You'll never have to dig through your purse or your pockets while driving ever again.
SE Hatchback
If you're looking for more storage space and easy access to your items, you may be better suited for one of the high-performance hatchback models. Both feature a shorter 162-inch length and a much larger total interior volume of 111.3 cubic feet. With the rear seats down, you can fit a generous 47.5 cubic feet of cargo in your vehicle, or 21.2 cubic feet if you prefer the rear seats up. The hatchbacks are also available in a vibrant orange Vitamin C color, which replaces the Misty Beige color available for the sedans.
Like the SE Sedan, the SE Hatchback comes with standard manual transmission and optional automatic transmission. It also comes with the same finishes and safety features.
Sport Hatchback
The main difference between the Sport Hatchback and all the other Hyundai Accent models are all the awesome bonus features that come standard in this trim. The Sport Hatchback is equipped for looks and luxury, with eye-catching Piano Black interior accents, premium cloth seating and a leather-wrapped steering wheel and shift knob rounding out the stylish interior. It also comes with the same convenient steering-wheel-mounted controls and Bluetooth® technology as the Value Edition Sedan.
The Sport Hatchback doesn't skimp on the exterior looks or functionality, either. The projector headlights with LED accents have visual appeal and will clearly illuminate your path on dark nights. The headlights' functionality is enhanced by automatic controls, meaning you'll never catch oncoming traffic off guard with piercing beams. The side mirrors receive an upgrade with a heating function that keeps them crystal clear during inclement weather and turn-signal indicators for easier and safe traffic navigation.
Find Your New Hyundai Accent at Texan Hyundai in Rosenberg, TX
Whether you're looking for a safe family sedan or a spacious hatchback that'll stow all your bags or equipment, the four Hyundai Accent models are stellar choices. Texan Hyundai is proud to provide the Rosenberg area with a large selection of
new and pre-owned Hyundai Accents
. Our experienced staff can help you choose the vehicle that will best suit all your needs. As an added bonus, for every Hyundai purchase, we will make a donation to Hyundai Hope on Wheels, a nonprofit that helps fund pediatric cancer treatment and research. Call us at (866) 413-5029 or visit in-person to find your dream car today!